PC-MT-T2-UNIVL-13A-UK-050
Ultra Compact Portable EV Charger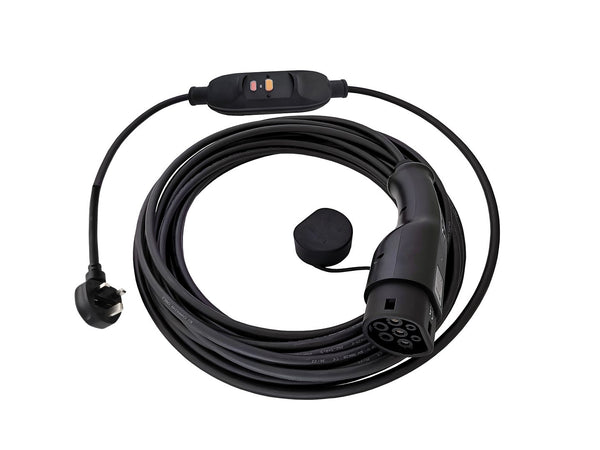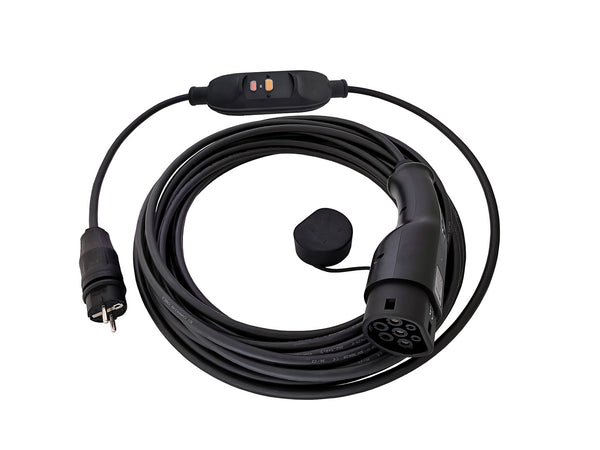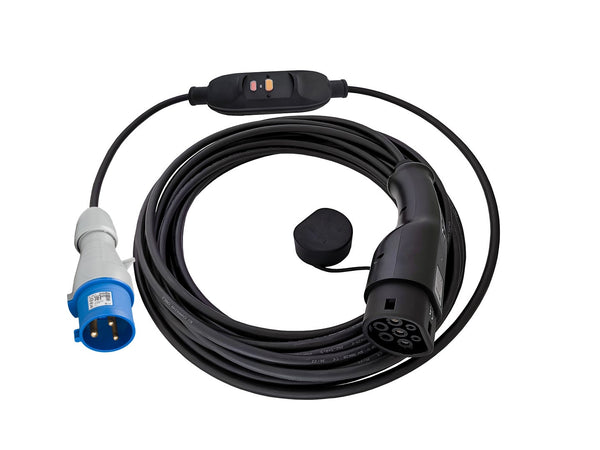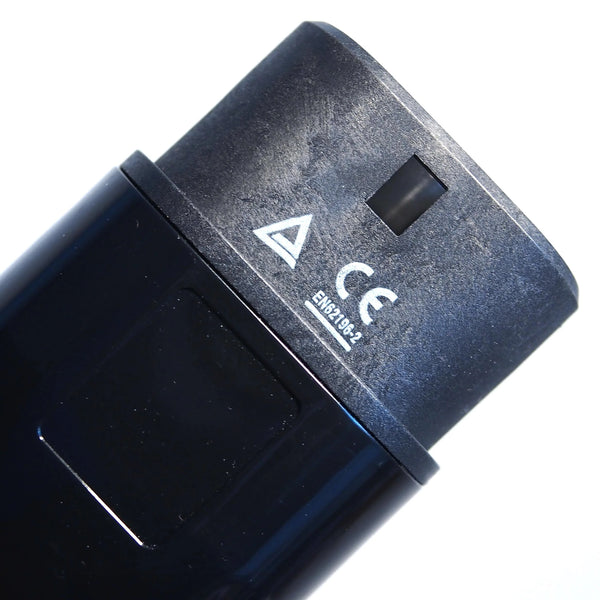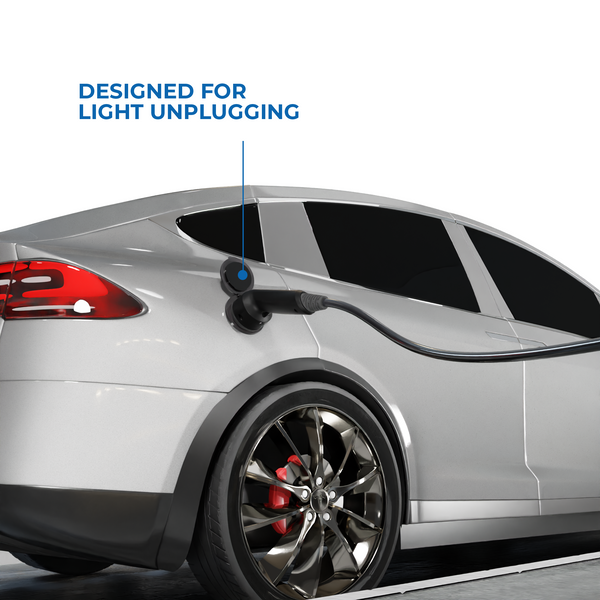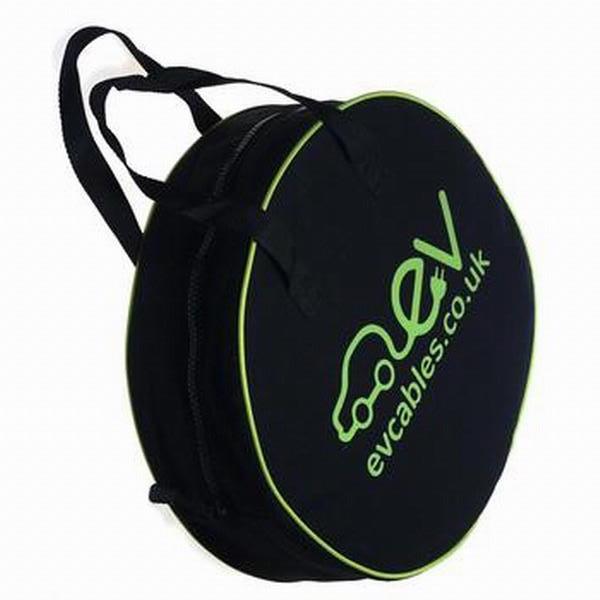 Introducing the evcables.com UltraLite EV Charger: Your Ultimate Road Buddy 🚗⚡ No bulky box (just an inline RCD), we packed all the electronics into the plug!
Hey there, fellow eco-warrior! Say goodbye to range anxiety and hello to endless possibilities with our new range of portable chargers for electric vehicles. We've designed the evcables.com Portable EV Charger to be the perfect companion for your EV adventures, whether you're a seasoned road-tripper or just running errands around town.
The Cable
The Plug
As long as you need! Choose from 5m all the way up to 30m.


All in the plug, no bulky box.

Resistant to microbes, oil, dust, and water. 

Easy coil.



Ergonomic design. Easy to hold and unplug.

Add travel adaptors or an extension in seconds. 

Impact-resistant and weatherproof.
✨ It's Compact, But Packs a Punch!
Our all-in-one plug design has ditched the bulky box on the cable, making it easy to pack and go. The compact design even includes an RCD so you'll always have peace of mind while charging. Plus, it's rainproof, so a little drizzle won't dampen your electric dreams.
🔌 Plug It In, Plug It In!
No matter where you are, our evcables.com Portable EV Charger has got you covered. It's compatible with any standard home or public wall socket (230V power source), making it your versatile charging partner. Choose between cable lengths from 5m to 30m to suit your needs.
✈️ Travel & Extend
Planning a Trip? No problem. Choose from our range of adaptors and you can quickly and safely change your plug to UK, Europe, or Industrial CEE versions. 
Need Extra Length? Sure thing. Even after your purchase, you can just buy additional cable length from us a quickly screw it into your existing chargers.
⚙️ A Tech Marvel, Tailored for You
We know one size doesn't fit all, so we've made our charger customizable. Adjust the charging current (6A, 8A, 10A, or 13A) to your preference, even during the charging process! The selected current will be stored in the internal memory, so you won't have to fuss with it every time.
🚀 Charge Like a Pro
Our in-house developed Micro EVSE 1 module ensures smooth and efficient communication between your EV and the charger. The ultra-accurate, temperature-independent quartz-controlled frequency means you'll always have a seamless charging experience.
💡 Stay in the Know
The built-in blue LED light will keep you informed about the charging process and any potential issues. It detects and indicates all normal charging states and faults, so you're never left guessing.
🌍 Compatible with Every EV
Our charger is 100% compatible with all electric vehicles with Type 2 sockets, from Tesla to VW, and many more! 
📜 Quality You Can Trust
Our evcables.com Portable EV Charger meets IEC 61851 standards, is CE approved, and comes with a 2-year warranty. The German-made premium EV charge cable is resistant to microbes, oil, dust, and water, ensuring a long and dependable service life.
So, what are you waiting for? Join the electric revolution and grab your evcables.com UltraLite Portable EV Charger today. Hit the road with confidence, knowing you have a trusty friend who's got your back (and your battery) wherever you go! 🌱🔋
🦺 Cable Care & Charging Saftey
Charging Cable Safety

The cable should be kept out of puddles.
Please remember to use the rubber dust cover to keep debris from collecting in the connector when not in use.
Moisture is the most common issue experienced and will lead to corrosion of the pins which are not covered by our warranty.
What are the risks of charging in the rain?
Water can still get into the plug and charging socket during the insertion and removal of the plug from the car. In fact, as soon as you open the charge port or unplug your car, the rain will get onto the pins and stay there until the next time you charge.
30 Day Returns
You have 30 days to change your mind about the purchase. A refund of the sale is available within 30 days (excluding postage costs) if the Item is new and has never been used. Only the cost of the product without any freight costs will be refunded. Please use the return procedure outlined below.
2 Year Warranty
Our warranty policy can be viewed here.
Delivery
Our EV Cables are built, tested and shipped from Buckinghamshire, UK. In most cases your cable will be made-to-order (fast) although we do hold some lines in stock.

The total delivery time is build time (typically 1 business day) + shipping. We use DHL Express next working day service for our UK deliveries.

So orders placed on:

Monday are dispatched Tuesday and arrive Wednesday
Tuesday are dispatched Wednesday arrive Thursday
Wednesday are dispatched Thursday to arrive Friday
Thursday are dispatched Friday to arrive Monday
Friday are dispatched Monday to arrive Tuesday
Saturday are dispatched Monday to arrive Tuesday
Sunday are dispatched Monday to arrive Tuesday

You'll receive an email upon dispatch which contains the tracking link.

If you need your cable the next day, live chat with us before 1pm and we'll do our best to make it happen!
Price Match & Guarantee
If you see a cheaper comparable cable elsewhere, either before or within 30 days of purchase. Just live chat with us and we'll adjust or refund you the difference.
FAQs
Q - Would this product/item/cable work as an extension cable?
A - No. The International Electrotechnical Commission (IEC) standards don't allow for extension cables on EV Cables.The IEC standard is clear on the matter; "A cord extension set or second cable assembly shall not be used in addition to the cable assembly for the connection of the EV to EVSE.". Therefore any EV extension cable will sit outside of the standards and may affect your vehicle warranty in the event of a claim. More details and options here:https://evcables.co.uk/pages/ev-extension-cable
Q - Why is one of the pins further back on my plug?
A - This is part of the standard. It is a safety feature on the plugs/cable so when it is unplugged the power disconnects first.
Charging Cable Checklist
Before buying your EV cable, make sure you've selected the right cable for your electric 
vehicle with our checklist:
Confirm the charging cable is compatible with your electric vehicle (EV). Use our car model search to find the correct cable for your vehicle, or check if your vehicle is listed in the 'Car Checker' tab. Want to double check? Simply speak to our team. 
Check it's the right length for your needs. For example, if you're using a public charging station, we recommend a length of 5 metres because it's not always possible to park on the nearest side of the charging station. If you're using the cable with a wall charger at home or work, simply measure the length needed to reach the vehicle socket.
Don't have your electric vehicle yet? Check with the manufacturer, dealer or seller to confirm if it already comes with a charging cable.
This cable can't be used to adapt or extend an existing charging cable. If a charging cable is already connected to a charging point, it can't be daisy-chained together to extend the length. It can only be used with the open socket of a charging point.
This EV charging cable is compatible with AC charging stations usually found in supermarkets, retail parks, on the street and wall chargers, typically installed outside a home or office. It's not a DC fast charging cable (also known as CCS and CHAdeMO), so you don't need to buy a cable to use fast charging stations as they're already connected to the charging station.
Still unsure? Simply get in touch and we'll make sure you buy right first time.
Wholesale