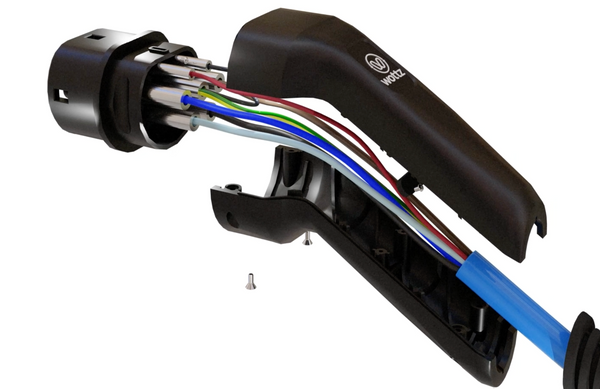 Embrace the Superior Charging Experience with New Wottz Type 2 Plug
Discover a new realm of electric vehicle charging with the Wottz Type 2 Plug. Built from the ground up with 8 years of EV market expertise, our Type 2 connector is a blend of reliable performance, trusted safety, and unparalleled durability. Its rich array of premium features and class-leading serviceability is tailored to provide maximum value to the discerning EV owner.
Unyielding Durability
Our Type 2 plug is a symbol of robust engineering. The receptacle, crafted from glass-reinforced nylon, exhibits exceptional wear and heat resistance, ensuring a snug fit every time you plug in. The ABS handle with rib reinforcement can withstand the crushing forces of an accidental run over by a car. Moreover, the UV-stabilised ABS plastic wards off brittleness caused by prolonged exposure to sunlight.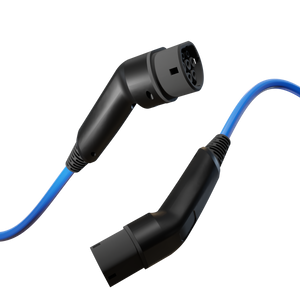 Optimal Water Resistance
Charge with confidence come rain or shine. The horizontal parting line with moulded lip seals effectively wards off water ingress during charging. Furthermore, the double-lipped cable gland acts as a dual guardian, providing strain relief while ensuring a weather-tight seal around the cable.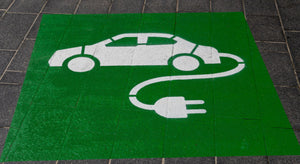 Eco-Conscious Design
Join hands with Wottz in promoting a greener future. Our Type 2 plug is crafted from recyclable materials adhering to ROHS compliance. The serviceable design, devoid of resin or rubber potting, facilitates easy maintenance while promoting recycling. Moreover, the locally sourced components significantly reduce our carbon footprint in the supply chain, aligning with our eco-friendly ethos.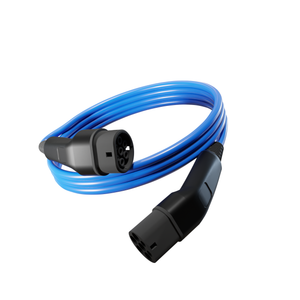 Certified Safety Assurance
Your safety is our priority. The Wottz Type 2 Plug has undergone rigorous testing by independent laboratories to certify its compliance with IEC 62196-1 and IEC 62196-2 standards. Our internal quality assurance procedures coupled with real-world testing from thousands of sold plugs, feed into an ever-evolving design aimed at enhancing safety and performance.
More Details & Technical Specifications
The Wottz Type 2 Connector is designed with meticulous attention to detail, ensuring an unparalleled charging experience:
Connector Types: Type 2 male/female connectors, standardized by the EU, supporting single-phase and three-phase power levels (3.6kW, 7.4kW, 11kW, 22kW).
Hyperboloid Contacts: Custom-engineered for 10,000 matings, ensuring long-lasting performance. Each contact is meticulously tailored to match the power rating of the flex and the exact diameter of the conductor core.
Electroplating: A 5um silver coating on each contact maximises conductivity and minimises environmental damage such as water exposure.
Design for Servicing and Maintenance: Easy servicing features extend the lifespan of the connector, reducing waste and promoting sustainability.
Certifications: Certified to IEC 62196 by an external laboratory for assured safety and quality.
In-House Design and Manufacturing: Designed and manufactured in the UK, adhering to the highest standards of quality and durability.
Warranty: Backed by a 2-year Wottz warranty, ensuring peace of mind with every purchase.
Support: Our team of EV experts is always on hand to provide guidance and support, ensuring a seamless charging experience.
Eco-Friendly: For every order placed, a tree is planted as part of our commitment to promoting sustainability.
Technical Specifications
Plug Type: IEC 62196-2 Type 2 Male / IEC 62196-2 Type 2 Female
Charging Mode: Mode 3, Case B
Operating Current: Up to 32A three or single phase
Operating Voltage: Up to 480 VAC
Operating Frequency: 50 Hz to 60 Hz
Standard Ambient Operating Temperature: –30 °C to +50 °C
I.P Rating: IP 44 connected to vehicle / IP54 (Dust cap)
Connection Method: Crimped connection, cannot be disconnected
Mating Cycles: >10 000
Insertion/Withdrawal Force: <100N
Contact Material: Brass, 5um silver plated
Certification: UKCA & CE / IEC 62196-2 and IEC 62196-1 compliant / ROHS
Case Material: ABS UV stabilised
Mating Receptacle Material: Nylon 6 Glass Filled 30%
Strain Relief Material: TPE
The Wottz Type 2 Plug is more than just a connector; it's your reliable companion in the EV charging journey. With a promise of enduring performance and a heart geared towards environmental sustainability, choosing Wottz is a step towards a hassle-free and eco-friendly EV experience.